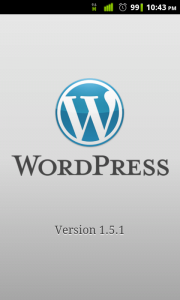 If you are running a WordPress blog, there is an app available in the Android Market that'll let you write posts from directly from your Android device.
I'm actually publishing this post from my Nexus One phone right now, screenshot and all. Pretty cool.
In order to connect, you'll have to enable XML-RPC in your web site's WordPress settings. Once that's set, just install the app on your phone and give it a start.  Enter your site's URL, username and password… and you're ready to blog on the go.
Check it out at http://android.wordpress.org/
The next step for my website is to integrate my Twitter feed into the right sidebar.  Lets see what kind of plugins I can find…