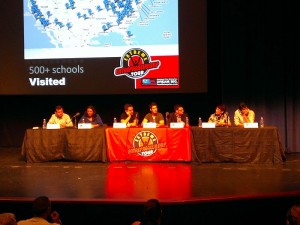 The Extreme Entrepreneurship Tour was in town this past Wednesday at Las Positas College and I was there to catch the great event. Lo and behold, I even pulled a few gold nuggets of wisdom from these great entrepreneurs.
What is the tour about you ask? Well, they bring the nation's top young entrepreneurs together to colleges, universities and other organizations for a half-day, high-energy conference. The event gives students a taste of the entrepreneurial life with great talks from successful entrepreneurs. Students can even mingle with them afterwards. Hey, maybe their success will rub off.
Who was there?
The event hosted by EJ Carrion, a motivational speaker, best-selling author of "Accelerate Your Success
" and co-founder of the Student Success Academy. EJ energized the crowd with his spirited personality while providing tips and insights into what makes entrepreneurs successful.
The two keynote speakers at the event were Ahmed Khattak, co-founder of GSM Nation, and Benji Rabhan, speaker, entrepreneur and best selling author with his book "Failure is Obsolete
." They were both great offering insight into how they got started and shared some tips on what they learned along the way.
The final part of the event was a Q&A panel of 7 entrepreneurs which included:
With all these smart people, what did I learn?
EJ Carrion said two things that stuck with me:
"It's not who you know. It's who knows you."
"Get comfortable being uncomfortable."
Those two quotes kind of twist your brain to get you into a different kind of thinking. Many people have a mindset where so much is out of their control. These two phrases turn that around and give you responsibility for your destiny.
Benji Rabhan, the second keynote, is a smart cookie and his insight really had an impact on me. His biggest message is that there is no failure, only testing. While that message is easy to grasp, his followup message, "test before you test," is the most important.
What does he mean? Well, It's common for people to build a product, and then see if there is a demand for it – the test. Instead, Benji says, is to determine is there is a demand before you build it. Test before you test. That way you don't waste time and energy building something that nobody wants. It's so simple that it's genius really. I can't wait to read his book, "Failure is Obsolete: The Ultimate Strategy to Create Recurring Success in Your Business and Your Life
."
The Extreme Entrepreneurship Tour was great, and if you ever get the chance to attend one of the events, I highly recommend it. You will learn something… guaranteed!
For more information and tour dates, check out www.extremetour.org.