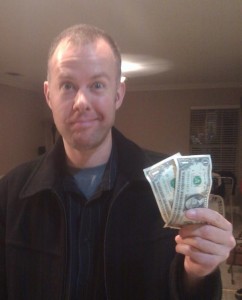 The Lottery. It's such a fun thing to think about. Every few months I read about some average Joe hit the big one. And man-oh-man do I start daydreaming. I think about all the cool things I'd be able to do. I think about how I wouldn't be like those poor souls who'll blow it all away. I think about how much freedom I'd have. Nice car, fancier house, all the travel. Mmmmm. 🙂
But it's all just a dream.
I would play the lottery based on that dream.  Every once in a while I'd get a scratcher, but I always had a ticket in my wallet. I'd spend $20 on a quickpick and play the next 20 games. That one ticket would last two and a half months till after I realized it was expired. Then the next time I was at the grocery store, I'd go but another. They say if you don't play, you never win right? It's just fun and entertainment right?  It's only a couple bucks a week right?
Wrong. The cost on your frame of mind is way too high.
See those two bucks in my hand? I won that with my last lottery ticket last week. Those are the last two bucks I'll ever win playing the lottery. I'm taking that dream of false hope out of the equation. I'm putting myself in control of making my own dreams happen.
Do you have dreams that are just "waiting" to happen based on false hopes? Take control and make them your responsibility. It's only then that achieving your dream really is a possibility.