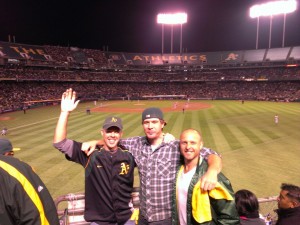 Ahhh, the Oakland A's. They did so well and were so inspirational till their last game. I was able to get tickets and attended their last two games of the playoffs.
The night before when they tied the series was CRAZY. They came back in the bottom of the 9th inning to win the game. I mean SUPER CRAZY in sold out crowd at the Oakland Coliseum. It was total excitement and mayhem  I was hugging people I didn't know. It was so incredibly awesome when the A's tied the ALDS with the Tigers.
So tonight they lost. A 6-0 defeat and the tigers ran onto the field as A's fans booed. But after about 3 seconds those boos turned to cheers, clapping, and drum beats to the familiar sound of "LET'S GO OAKLAND!!!"  It was fitting tribute to the players that earned the best records in baseball since the 2012 All Star break. No one notices that the Tigers left the field.
It was emotional and the crowd did not stop chanting. The fans were so proud of how far they come throughout the year. "LET'S GO OAKLAND!" chants echoed throughout the stadium for a few more minutes until a bunch of the A's players emerged from their dugout, tip their hats and waved to the crowd.
A fitting end to the 2012 season which truly shows what a wonderful relationship the Oakland A's and their fans have. It was an incredible run and I look forward to cheering them on again next year.