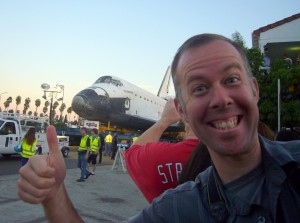 It's 3 weeks later and we decided to drive 350 miles to see Space Shuttle Endeavour makes its way through the streets of LA to its final stop: The California Science Center.
We attempted to watch Endeavour cross the 405 as we drove under the overpass on our way down last night. Unfortunately after driving back and forth about 5 times, we still missed it. Turns out CHP stopped traffic so no one could see it anyway. I guess it would be the ultimate distraction for LA drivers. But we did catch a glimpse of it on each side of the freeway with its tail towering above the buildings.
Today we made our way further down its planned route to wait for it to pass by. It turned to be quite a long day. It was delayed several hours which made for several sore legs. But patience prevailed, not just for us, but for thousands of other spectators trying to catch a glimpse as Endeavour made its way past us. It's quite a sight and an incredible machine showing all its wear and scars from 25 flights covering a distance of 122,883,151 miles.
After it's put up on display at the California Science Center, I'll be sure to come visit Endeavour again the next time I'm in LA. In the mean time, I'll have these photos to remind me of today, 3 weeks ago when if flew over San Francisco, and November 14, 2008 where I saw Endeavour light up the night sky for STS-126… One of the most amazing things I have ever seen.
Enjoy the photos of Endeavour passing by us on the streets of LA.