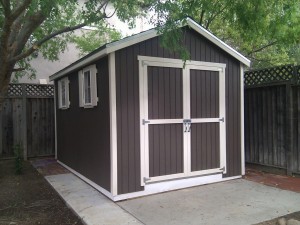 Now that spring is upon us, Andrea and I quickly realized that the weather was getting better to start on our next project… the shed. We already have a concrete pad in the back corner of our yard. It's the perfect spot for one that's 8 feet wide and 12 to 16 feet long, so it was time to see what's for sale.
Home Depot and Lowe's has some kits that run a couple grand. But I wasn't happy with the quality and price. I figured I could build one better at a lower cost. I was thinking of designing one myself. Since I never built one before, I thought it'd be wiser to find some plans.
After tons of research, I came across some great 12′ x 8′ plans on Amazon.com
. The company, Plans Design
, has plans for almost 100 projects with sheds of all sizes. Definitely worth checking out if you're looking to build a shed. They were simple and included a cut-list. It tells you exactly what wood to buy. But if you don't measure twice, you may end of having to go back for more wood like I did. Oops.
The project went really well except during the paint phase. Since I had to thin the paint for the spray gun, we needed lots of coats of primer and paint. Unfortunately we also had a couple of rain storms come through during that painting phase which made hours between coats turn to days. But we were patient and after about a months worth of weekends we were done.
Check out the photos below. Not to shabby eh? Now the fun part is filling it with stuff. It'll be nice to get finally be able to park my truck in the garage.