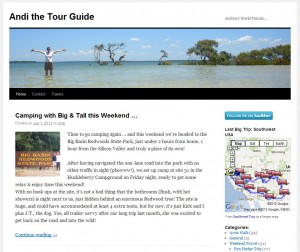 Andrea, my wonderful girlfriend, always wanted a website to share her travels with her family and friends called "Andi the Tour Guide". Me, being a geeky guy who absolutely loves to travel just as much as her… well, we're a perfect fit.
I created Andi the Tour Guide for her in 2009 and we've blogged about our travel adventures there ever since. Australia, Austria, Canada, Florida, Thailand and the Southwest are all the big trips we've blogged about so far. But we also throw in our weekend camping adventures as well.
During the big trips, we've made it a habit to try to "live" post at the end of each day. We'll share our adventure and post some great photos of the day. We actually just got back from a 3300 mile road trip touring the southwest in our little travel trailer. It was a blast!
So the next time Andrea and I are on vacation…
…follow along with us at AndiTheTourGuide.com.