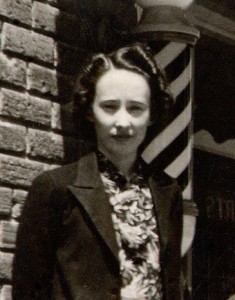 On January 1st, 2013, my grandma passed away at 99 years old. Born July 7, 1913, she has lived through an extraordinary period in history.
1913 was the year Ford introduced the moving assembly line to produce the Model T and was the year when the construction of the Panama Canal finished. World War I was going on through her childhood and during the Roaring Twenties she developed her love of music and dancing. By the end of the Great Depression her and my grandfather Charles Patrick Sylvester had two children, my Aunt Pat and my Dad John. World War II, Sputnik, Elvis, Woodstock, Moon landings, Vietnam, lava lamps, Sea-Monkeys, Atari, Space Shuttle launches, MTV, and the Internet all happened in the decades to follow.
It's amazing to think of how much has changed during her lifetime. It's crazy to think that when I was born, she was 20 years older than I am now. Which means if I live to be 99, the year will be 2073. Just imagine how much the world will change by then.
My memories of her start in the late 70's and 80's when my parents, my brother and I would travel from California to Nebraska in our orange Volkswagen van. I remember Grandpa giving my brother and I boxing gloves… he got a real kick watching us beat the heck out of each other. I also remember sticking pennies between the keys of her piano. I'm sure they are still there today.
For the past 15 years, she was living out in Florida to be close to my aunt who has done so much to help her out.  I'm glad I was able to visit every couple of years or so.
I'm especially happy that she got to meet Andrea, my wonderful girlfriend, during our 2010 trip out there. Andrea got to experience that spunky personality that everyone always talked about.
So to remember my grandma, I wanted to share some photos during her life.
Grandma Sylvester, you will be missed.
Love,