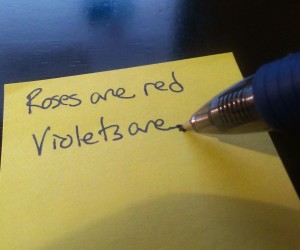 To improve my writing skills, I decided to take creative writing class at Las Positas College here in Livermore. The class had two major parts: write a short story and write a collection of poems. During one of our class discussions on writing poetry, our instructor was talking about the fun of creating sounds in poems. On the whiteboard, he started writing variations of funny sounds such as "ploing" and "pzahh." Being a man who uses sound effects quite often in daily life, I was quite amused. I was also quite inspired.
Soon after, I was off on a trip to London and I had a little time to kill on the flight. At 35,000 feet somewhere between Saskatoon and Nuuk, "History of War" was born. Back in class during our critique sessions, everyone seemed to really enjoy it. One student even said that I should publish it. So hey, what better place to publish my very first poem than my very own website right?
So here is my contribution to the world of poetry. I hope you enjoy it.
History of War
by Kirk Sylvester

Grunt toss rock bash
Club swing face smash

Clink clank slash cut
Zip twang shwish pluck

Pip pop bing bang
Tsssss crack frooom bam

Click clack ratta tat tat
Vroom roar treads track

Jets soar swoosh zoom
Bombs drop weeee boom

Atom missiles rumble launch
Small world knockout punch