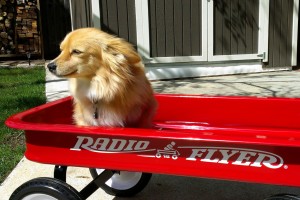 I've been wanted to get something to help moved stuff when gardening a doing stuff around the yard. There are utility carts for sale at the local hardware stores, but man, they are pretty utilitarian and quite boring.
I kept thinking back to that little red wagon I had as a kid and thought, "What if?"
I'm not sure the wagon I had was a Radio Flyer, but that's THE red wagon. So checked out Toy's "R" Us and Target and they had a couple of models of different styles. The models come in different styles: plastic, wood and metal – They even have ones with big all-terrain tires. I wanted the classic style like I remember but nothing was in stock locally. Looking online, I found it on Amazon for $79 with free Prime 2-day shipping
. Now that was $20 less than anywhere else, plus it'll be at my door just in time for yard work for the weekend.
Two days later the doorbell rings, the dog barks, I wave to the delivery man, pull the large box inside, and opened it like a little kid on Christmas morning. Follow the gallery below as I unbox and build our new Radio Flyer Classic Red Wagon Model #18. I hope you enjoy it as much as my little dog does!